A Total Bust A Move is the first half of the thirteenth episode of season 1 of The ZhuZhus.
Summary
The ZhuZhus try to stop Frankie from dancing in the school talent show after seeing her moves. [1]
Characters
Plot
Spoiler warning!
This section contains plot details about an episode.
Frankie enters the room excited about the talent show she tells the ZhuZhus about it and they ask her what she is going to do for it, she says she is going to dance. While she is practice the ZhuZhus says she is a bad dancer, And Pipsqueak does not want to her. Pipsqueak, then tells here that she should try something else, the other ZhuZhus agree. They try to convince her to try something else she decide to try something else. She then Skates,rides a unicycle,Juggles and makes a sand sculpture of the ZhuZhus.
She decides she still wants to dance. The ZhuZhus, then tell her parents to stop her from dancing, though they say it is good she is dancing and that she is a great dancer. The ZhuZhus have a meeting, and Pipsqueak says they should teach her how to dance. She says she does not need to train. Pipsqueak, then says that they want to teach her new moves that will help her dance better she agrees and they practice the tango.
She then practices break dancing without Mr. Squiggles, who is supposed to teach her, he then arrives and teaches. Then Num Nums, teaches her ballet she once again does a good job at it. Then she says it is time for the talent show and they go to the school. Frankie, then goes on stage and prepares to dance, while doing that Pipsqueak, says they need to cheer loud so she will not hear the laughter. She does the original dance she planned to do while dancing to the song Dreams'O Clock, everyone cheers and the ZhuZhus are happy to see that everyone loves her dancing.
Broadcast
In the United States, A Total Bust A Move premiered on January 29, 2017 on Disney Channel, Along with it's sister episode, The Grand Zhu Zhu Pets Hotel [2]
Trivia
The 3 girls from The Screaming Monkey's commercial in Friendship Friend-zy who attended the concert in Dreams O'Clock return in this episode. The gift-giver is in the talent show audience while the gift-receiver and other girl are applauding Frankie's sculpture of the ZhuZhus.
Gallery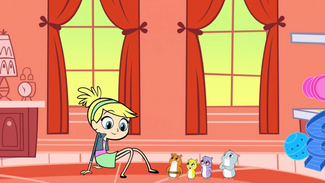 The image gallery for the episode "A Total Bust a Move" may be viewed here.
References
↑ "A Total Bust a Move/The Grand ZhuZhu Pets Hotel". IMDb. Retrieved on 2017 January 29.
↑ "The ZhuZhus' to Premiere on Disney Channel January 7". Animation World Network. Retrieved on 2016 December 22.
Community content is available under
CC-BY-SA
unless otherwise noted.