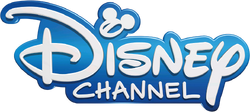 Disney Channel
is an American TV channel that launched in April 18, 1983.
The channel provides TV shows for children and teenagers, as well as Disney Junior, a block made for younger children.
From November 19, 2010 to present, Latin American Spanish audio is available via the SAP option. The channel also offers audio description if the Spanish dub isn't available.
Polly and the Zhu Zhu Pets
Polly and the Zhu Zhu Pets premiered on the channel in the United States on September 12, 2016 at 4:00 PM EDT. The show is rated TV-Y7 (generally suitable for ages 7 and up) on the channel. [1]
The channel advertised the show's arrival on August 30, 2016 by putting it's theme song as a promo. Later, another promo was made to advertise the show's arrival.
Polly and the Zhu Zhu Pets premieres on Disney Channel Asia in April 2017.
Videos
External links
References
Community content is available under
CC-BY-SA
unless otherwise noted.